The Executive Inn Fort Worth is located on the I-30 West Freeway between the South Las Vegas Trail and Meadow Park Drive. What was once a major trading post, Fort Worth has grown into a thriving city that boasts being the number one tourist destination in the State. Fort Worth offers an impressive array of museums, art galleries, parks, shops, and entertainment venues. Our location is a short drive from the Dallas-Fort Worth International Airport and is near the entertainment districts like the Southside where guests can visit the restaurant row which features restaurants serving delicious cuisine from around the globe.
The Executive Inn Fort Worth provides a host of comforts and services to keep guests returning every year. Guests appreciate that we are a 100% non-smoking property. We offer conveniences like a 24-hour front desk staff, guest laundry facilities, as well as complimentary WiFi, and complimentary self-parking. We offer a business center and vending machines with a variety of beverages and snacks.
The Executive Inn Fort Worth is a short drive from the Dallas-Fort Worth International Airport. As a destination location, Fort Worth is conveniently divided into eight districts that are bursting with entertainment. Whether guests want to brush up on area history in the Stockyards National Historic District, visit the area's most popular museums in the Cultural District, or swing by the West 7th district to enjoy trendy restaurants and bars, fashionable retailers, and theaters, or visit the downtown area and Sundance Square which offers thirty-five walkable blocks that are home to world-class museums, performance venues, bars, water gardens, parks, and restaurants. Visitors to the area appreciate the nod to the past with restored buildings that preserve the western heritage through traditional architecture, as well as Art Deco, Beaux Arts, and towering new skyscrapers.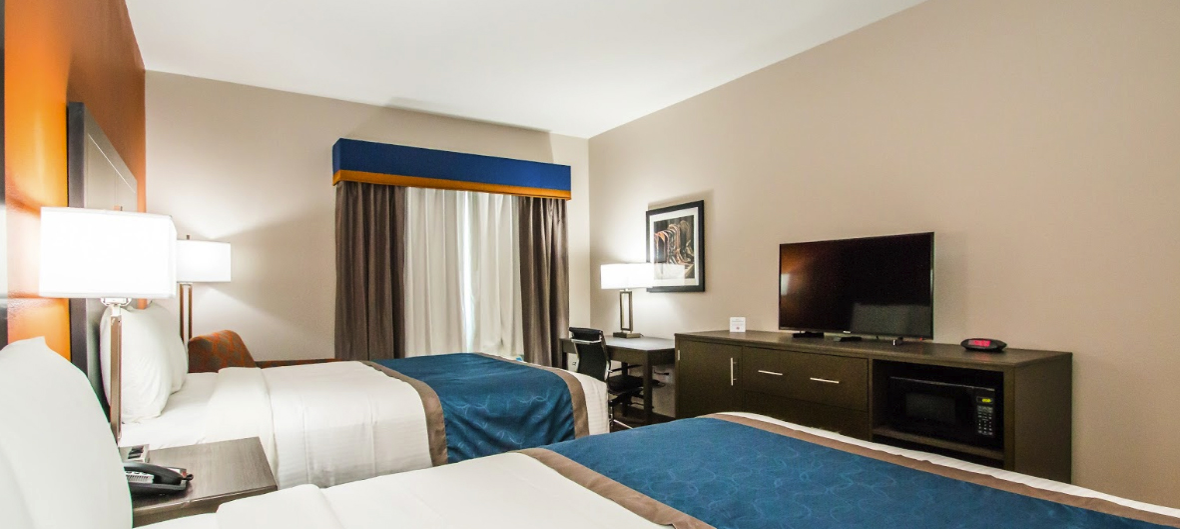 The spacious guest rooms at Executive Inn Fort Worth are fitted with special touches like pillowtop mattresses, premium bedding, modern décor, and plush towels to ensure comfortable days and restful sleep. With added conveniences like complimentary WiFi, complimentary parking and more, you can experience Fort Worth Texas in style as a guest of Executive Inn Fort Worth.
AMENITIES
Executive Inn Fort Worth West
LOCATION
LOCATED IN THE HEART OF FORT WORTH, TEXAS